RAHS Vision Services
The RAHS-Ypsilanti High school-based health center provides eye exams for youth and adolescents in Washtenaw County. An optometrist from the Kellogg Eye Center, Dr. Dewey, sees patients on the 2nd and 4th Thursdays of the month during the school day. Our health centers arrange to transport students to the RAHS-YCHS location to access these services.

RAHS partners with the Kellogg Eye Center to provide vision services in Genesee County as well. Patients are seen on the RAHS Mobile Unit on the 1st and 3rd Thursdays of the month. Patients first have their vision screened by a health center clinician, then are scheduled for a full eye exam if needed.

Services are available to youth 21 years old and younger from the community-at-large. As with all RAHS services, we accept both insured and uninsured patients with no out-of-pocket charges. RAHS vision services are intended for patients without insurance, or those who are not yet eligible for a new eye exam or glasses with their insurance.

Eye exams include dilation. Those patients who need glasses, or need a replacement pair, are provided glasses at no out-of-pocket cost. Patients typically receive their glasses 2 weeks after their eye exam.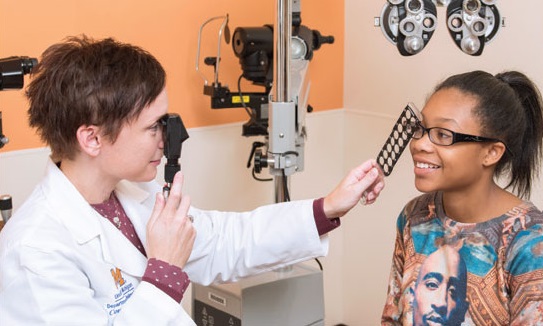 2019-20 Vision Dates for Washtenaw County
August 8 - Community Vision Day
August 22 - Community Vision Day
September 12 - UPDATED! Ypsilanti Community High School
September 26 - UPDATED! Lincoln Middle School
October 3 - Community Vision Day at Ypsilanti Community High School
October 10 - Scarlett Middle School / Pathways to Success Academic Campus
October 17 - Scarlett Middle School / Pathways to Success Academic Campus / Ypsilanti High School
October 31 - Ypsilanti High School
November 14 - Lincoln Consolidated High / Ypsilanti Community Middle Schools
December 12 - Lincoln Consolidated Middle School
January 9 - Scarlett Middle School / Pathways to Success Academic Campus
January 23 - Ypsilanti Community High School (half day)
March 12 - Ypsilanti Community High / Ypsilanti Community Middle Schools
March 26 - Scarlett Middle School / Pathways to Success Academic Campus
April 9 - Ypsilanti Community Middle School
April 23 - Lincoln Consolidated High School
May 14 - Lincoln Consolidated Middle School
May 28 - Ypsilanti Community High / Lincoln Consolidated High Schools
June 11 - Scarlett Middle School / Pathways to Success Academic Campus (date may change depending on final exams)
June 25 - Community Vision Day
2019-2020 Vision Dates for Genesee County
August 1 - Kearsley High School
August 29 - Beecher High / Dailey Elementary School AND Richfield Public School Academy
September 5 - Carman-Ainsworth High School
September 19 - Carman-Ainsworth High School
November 7 - Carman-Ainsworth High School
November 21 - International Academy of Flint
December 5 - Kearsley High School
January 30 - Beecher High / Dailey Elementary School
February 13 - Carman-Ainsworth High School
February 20 - International Academy of Flint
February 27 - Richfield Public School Academy
March 5 - Kearsley High School
March 12 - Genesee County site TBD
March 19 - Richfield Public School Academy
April 2 - Carman-Ainsworth High School
April 16 - International Academy of Flint
April 30 - Beecher High / Dailey Elementary School
May 7 - Kearsley High School
May 21 - Armstrong Middle School
June 4 - Beecher High / Dailey Elementary School
June 18 - Richfield Public School Academy