Did you know that you can eat all the parts of a pumpkin? Well, everything but the stem. The pumpkin flesh and skin are high in:
potassium, reduces blood pressure
beat-carotene, which converts to vitamin A in the body to improve eyesight; it also gives pumpkins their orange color
fiber, to keep you regular and reduce blood sugar spikes
vitamin C, to help fight off colds
Pumpkin seeds are high in phytosterols, which reduce bad LDL cholesterol and make sure your arteries can easily carry blood. Pumpkin seeds can also boost your mood. The seeds are rich in tryptophan, which improves the production of serotonin in the body. Serotonin is known as the "happy chemical"; the more of it in your body, the happier you will feel!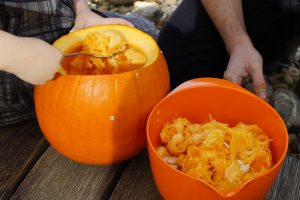 How to Roast Pumpkin Seeds
Wash pumpkin seeds in a strainer until all the seeds are washed and clean of extra debris.
Preheat oven to 300 F
Toss seeds in a bowl with 1 Tbsp olive oil
Add spices to make sweet or spicy – for example, chili powder or cinnamon
Spread evenly on a baking sheet and roast 1 hour, or until dried
Let cool and enjoy as a snack,  or sprinkled on soup or salad